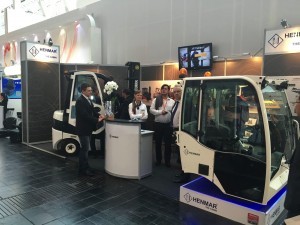 On the occasion of the CEMAT EXIBITION, which took place last week, KBO presented clients a new generation cabin.
Inspired by the automotive sector, K.B.O has redesigned its offer around the equipment to innovate with a new cabin comfort, with many integrated options.
The objective of this new generation cabin, is to ensure the comfort of work in the lives of truck drivers. More comfort, less noise, an already well-equipped cabin with a price equivalent to the usual cabin. This new generation of cabs will soon compose the new offer KBO.
Laurent Keufterian CEO KBO says: « This cabin will revolutionize the world of handling and meets a critical need for our customers: find a cabin with superior comfort. »